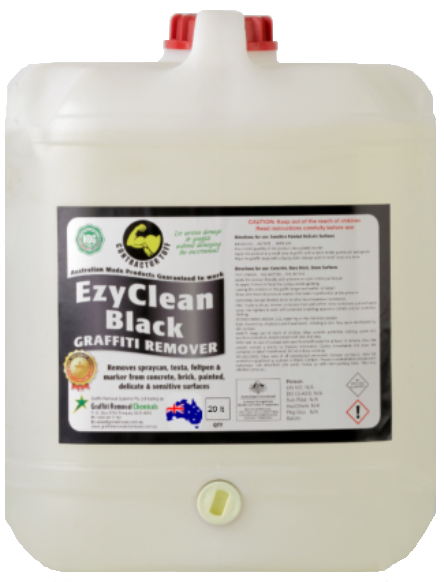 EzyClean Black Graffiti Remover, 10 litre
SKU 0003B
Product Details
Tuff Enough to Work and Yet… a designated non-Dangerous Good product
A really "great all rounder". Remove graffiti from brick, stone, painted surfaces, metal, polycarbonate…almost anything without doing any damage. Non Dangerous Goods. Non-flammable. A truly remarkable, hard working yet safe to use product.
| | |
| --- | --- |
| FEATURES | BENEFITS |
| Nil odour | Great for confined, unventilated spaces |
| Non DG | pH neutral and conforms to Australian NOHS criteria |
| Non Flammable | Approved for storage and transport under new GHS Codes as Non DG & Non Flammable |
| Great Coverage | 5 - 7 m2 per litre |
| Safe for surfaces | EzyClean Black Graffiti Remover will not etch polycarbonate so it is ideal for bus windows, bus/tram stops, atms and sound barriers |
| Ezy as 1 2 3 to apply | Brush On...Agitate...Rinse/Wipe Off |
| Works "wet on wet" | No need to stand around and wait for it to dry, apply more of the product and keep working |
Remarkable EzyClean Black Graffiti Remover…cleaned up the bank without damage
Five Minutes…Job Done Well
All of the products in our EzyCean Graffiti Remover range:
Use 60% less water in the "rinse off" than our competitors
Works "Wet On Wet"
Fully neutralised when rinsed with water
Available in 10 & 20 litre Bottles

DIRECTIONS:

Put on safety glasses, gloves and relevant PPE.
Pour some EzyClean Black Graffiti Remover into a bucket and apply the product tot the graffiti with a nylon bristle paint brush. Using the brush, agitate the graffiti (like you would be scribbling on a wall).
Some inks and aggressive permanent markers may require step 2 to be repeated.
Keep the graffiti wet with the product, if it dries out, the graffiti remover will not work as quickly or affectively. The Wetter…The Better.
Always remove graffiti from small areas at a time
The dissolved graffiti can be removed with either damp cloth on a smooth surface. Rinse off the graffiti on brick concrete masonry surfaces.
Rinse using either a pressure nozzle, trigger hose or high pressure washer on low pressure
CLEANUP:

Wash equipment with water immediately after use.

IMPORTANT:

Always read the safety instructions before using any cleaning product and observe all safe working requirements eg: safety gloves, safety glasses, etc.
Wear Long Sleeves Do not apply chemical above shoulder height
Do not blast too close in order to remove the graffiti as it may cause damage to the surface and will possibly only remove a small amount of the graffiti.
The EzyClean Black Graffiti Remover is used as supplied. Do not dilute.
Store in a cool dry place
Shelf life, 2 years
The SDS is available as a download, upon purchase.

Save this product for later