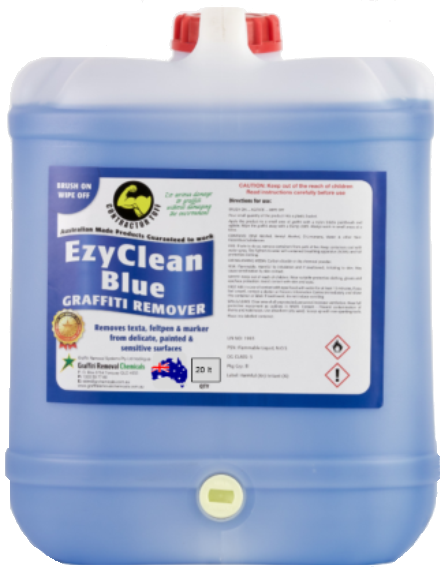 EzyClean Blue Graffiti Remover, 20 litre
SKU 0002C
Product Details
Brush On - Wipe Off - Rinse Off
EzyClean Blue Graffiti Remover is used for the removal of felt pens, texta, permanent markers and inks from non-porous painted surfaces, laminate, glass, colorbond and plastic. It is ideal for traffic signal boxes, street furniture, council bins, post boxes and playground equipment.
FEATURES
BENEFITS
Great coverage
6 - 8m2 per litre
Citrus based
Derived from natural citrus ingredients
Ezy wash up
Wash out brush in cold water
Minimal dwell time
No need to wait...wait...wait
3-5 minutes does the job
Works "wet on wet"
No need to stand around and wait for the surface to dry. If a second coat is required, it can be applied "wet and wet"
Superior wetting agent
Even in the harshest Australian climate, it will remain 60% wetter than any other products on the market, marking removal easier and quicker
Biodegradable
Rinsed off, the product is neutralised with water
All of the products in our EzyClean Graffiti Remover range use:
Use 60% less water in the "rinse off" than our competitors
Works "wet on wet"
Fully neutralised when rinsed with water
DIRECTIONS:
Put on safety glasses, gloves and relevant PPE
Pour out some EzyClean Blue Graffiti Remover into a bucket and apply the product to the graffiti with a nylon bristle brush. Using the brush, agitate the graffiti (like you would be scribbling on a wall)
Some inks and aggressive permanent markers may require step 2 to be repeated
Keep the graffiti wet with the product. If it dries out, the graffiti remover will not work as quickly or effectively. The Wetter...The Better
Always remove graffiti from small areas at a time
The dissolved graffiti can be removed with a damp cloth conjunction with running water
Rinse the graffiti off with a pressure nozzle, trigger hose or high pressure washer on low pressure.
CLEANUP:
Wash equipment with water immediately after use.
IMPORTANT
Always read the safety instructions before using any cleaning product and observe all safe working requirements (e.g. safety gloves, safety glasses, etc)
Wear long sleeves. Do not apply chemical above shoulder height.
Do not blast to close in order to remove the graffiti as it may cause damage to the surface and will possibly only remove a small amount of graffiti.
The EzyClean Blue Graffiti Remover is used as supplied. Do not dilute.
Store in a cool, dry place.
Shelf life, 2 years.
The SDS is available as a download, upon purchase.

Save this product for later