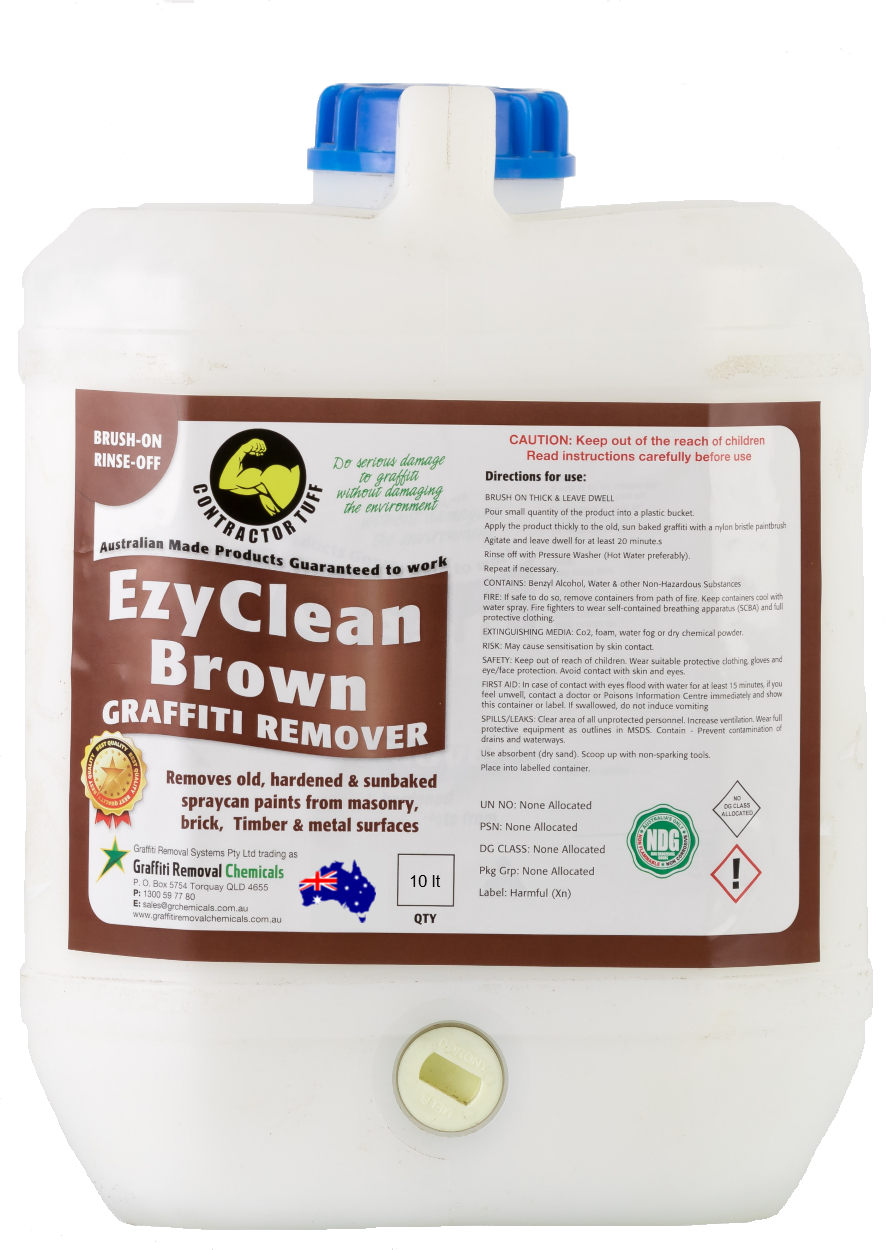 EzyClean Brown Graffiti Remover, 10 litre
SKU 0005
Product Details
The "Enforcer" …formulated for the removal of very old, sun-baked graffiti
| | |
| --- | --- |
| FEATURES | BENEFITS |
| Non-DG Gel | Approved for use on Heritage sites |
| No damage to even the most sensitive surfaces | Can be used on Galvanised and Zincalume |
| Highly effective | Removes oil-based paints, petroleum, water-based paints and line marking paints |
| Ezy application | Brush or Broom on, let dwell... Graffiti gone |
| Great coverage | 6 - 8 m2 per litre |

"I was very impressed with the EzyClean Brown. The cave area treated was around 5mt x 2mt north/west facing wall (highly exposed to the elements). The graffiti was predominantly 1960"s house paint. Around 30 mins after application, up to 80% of the graffiti was removed with wet scrubbing and a garden sprayer. Due to the sensitive nature of these heritage caves, we were not allowed to use any pressure washer/s. In total, we used 1 litre of EzyClean Brown and 14lt of water in the process. Due to the low odour formula, EzyClean Brown made it really great to work with in the cave environment. Truly an amazing product that satisfied all the criteria from the traditional owners"
~ Environment NSW (nationalparks.nsw.gov.au)
All of the products in our EzyCean Graffiti Remover range
Use 60% less water in the "rinse off" than our competitors
Fully neutralised when rinsed with water
PACKAGE: Available in 10 litre Bottles
DIRECTIONS:
Put on safety glasses, gloves and relevant PPE.
Pour some EzyClean Brown Graffiti Remover into a bucket and generously apply the product to the graffiti with a nylon bristle paint brush or broom and agitate. Apply the product liberally. Do not scrimp on the amount of product.
Once the product is applied, let it dwell for 20 - 30 minutes.
Keep the graffiti wet with the product, if it dries out, the graffiti remover will not work as effectively. The longer, the wetter the better.
Rinse the graffiti off with pressure nozzle, trigger hose or pressure washing machine. On smaller, sensitive or heritage surfaces/areas where water is not available freely or you cannot use a pressure washer, use a garden sprayer or wipe the residue off with a wet cloth.
CLEANUP:
Wash equipment with water immediately after use.
IMPORTANT
Always read the safety instructions before using any cleaning product and observe all safe working requirements (e.g. safety gloves, safety glasses, etc.)
Wear Long Sleeves Do not apply chemical above shoulder height.
Do not blast too close in order to remove the graffiti as it may cause damage to the surface and will possibly only remove a small amount of the graffiti.
The EzyClean Black Graffiti Remover is used as supplied. Do not dilute.
Always test a small inconspicuous area first to ensure that the final result is satisfactory
Store in a cool dark & dry place
Shelf life, 12 months
The SDS is available as a download, upon purchase.

Save this product for later