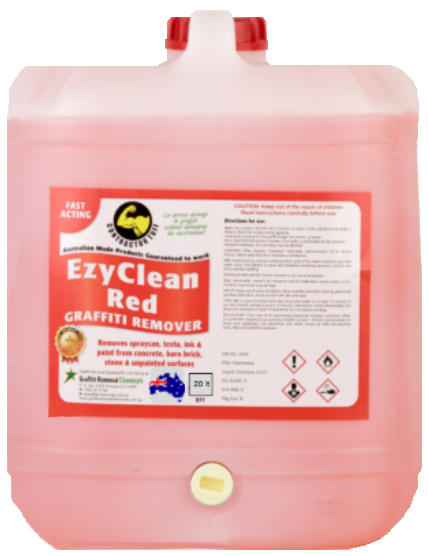 EzyClean Red Graffiti Remover, 20 litre
SKU 0001C
Product Details
EzyClean Red achieves a consistent success rate of 98%
Ideal for councils, contractors and anybody who is serious in removing graffiti professionally and quickly with no damage to the surface or environment. Ideal for removing spray can paint, "ironlack", buff ink, molotow and permanent markers from bare brick, masonry, stone and other non-painted surfaces.
| | |
| --- | --- |
| Features | Benefits |
| Coverage | 4-6m2 per litre |
| Superior "wetting" agent | Even in the hottest areas of Australia, it will remain 70% wetter, which is longer than any other product as it does not dry out. You are not wasting product or water |
| Fast acting | Use less product and 60% less water when rinsing |
| Ezy to apply | Broom on or brush |
| The "oldest" and most "ancient" graffiti removed easily | Tackle any graffiti with confidence |
| "Contractor Tuff" | Developed for contractors by contractors with over 45 years combined experience, so we know it works every time |
| Biodegradable | When rinsed off with water, our EzyClean Red Graffiti is neutralised |
DIRECTIONS:
Put on safety glasses, safety gloves and relevant PPE.
Pour some EzyClean Red Graffiti Remover into a bucket and generously apply the remover to the graffiti with a nylon bristle paint brush or broom. Do not scrimp on the amount of product. Apply liberally.
Repeat step 2 three times in succession at three (3) minute intervals for the majority of spray can paint removal. There is no need to scrub hard but agitation is certainly helpful. Extra applications may be necessary on porous surfaces or old graffiti.
Keep the graffiti wet with the product. If it dries out, the graffiti remover will not work effectively. Remember, "the longer, the wetter, the better."
Rinse the dissolved graffiti with pressure nozzle, trigger hose or pressure washer on low pressure. Job done.
CLEAN-UP:
Wash equipment with water immediately after use.
IMPORTANT:
Always read the safety instructions before using any cleaning product and observe all safe working requirements (e.g. safety glasses, safety gloves, etc)
Wear long sleeves. Do not apply chemical above shoulder height.
Do not blast to close in order to remove graffiti as it may cause damage to teh surface and will, possibly, only remove a small amount of graffiti.
Do not use of metals.
The EzyClean Red Graffiti Remover is used as supplied. Do not dilute.
Store in a cool, dry place.
Shelf life, 2 years.
PACKAGING:
2.5 litre bottle
10 litre drum
20 litre drum
The SDS is available as a download, upon purchase.
Save this product for later