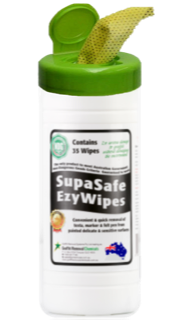 SupaSafe EzyWipes
SKU 0009
Product Details
As the name says, they are SupaSafe, are not dangerous goods and are non-flammable
SupaSafe EzyWipes, these wipes will remove graffiti tags from all smooth surfaces with the same rapid action and great results as the Graffiti EzyWipes.
FEATURES
BENEFITS
Nil Odour
Ideal for confined areas with little or no ventilation
Polycarbonate/Perspex Friendly
The only graffiti removal product that will not etch polycarbonate/Perspex
Certified Product
pH neutral and conforms to Australian NOHS Criteria
Handy 35 wipe pack
Compact Canister, takes up very little space
30mm x 20mm large size wipe
Remove up to 10 tags with 1 wipe
Heavy duty locking lid

Secure and robust
Strong non-scratch cloth
Better grip for more efficient graffiti removal without scratching
Sealed inner foil liner. The only product in the market in this format
Reduces chemical evaporation by 80% even in the hottest climate
Approved for storage and transport as Non DG & Non Flammable due to the unique packaging

Case Study: 2012. Victorian Buslines
SupaSafe EzyWipes were originally developed for the bus/coach industry. We were required to provide a "wipe" solution that had nil odour, left no damage to the windows (polycarbonate), were able to be used in a non-ventilated environment (bus/coach windows do not open) and had to be fast-acting to meet tight turnaround times. We ticked all the boxes and SupaSafe EzyWipes have helped bus companies since 2012
All of the products in our EzyClean Graffiti Remover range:
Use 60% less water in the "rinse off" than our competitors
Works "Wet On Wet"
Fully neutralised when rinsed with water
DIRECTIONS:
Remove a wipe from the Canister, scrunch it up.
Using a circular motion, remove graffiti in small areas at a time.
Continually turn the wipe over to keep the area clean
After removing the graffiti, immediately clean the surface with a damp cloth
Wipe off any residue with a dry clean cloth
SupaSafe EzyWipes will remove: ballpoint pen, ink, felt pen, magic marker, crayon & spray can paints from: polycarbonate/Perspex, signs, chairs, whiteboards, walls postal drop boxes, newspaper dispensers, desks, real estate & road signs, control boxes, playground equipment, bus stops, plastic, powder-coat finishes & acrylic.
IMPORTANT:
Always read the Directions before using any cleaning product and observe all safe working requirements eg: safety gloves, safety glasses, long sleeves etc.
Always test a small inconspicuous area before use
Always ensure the foil is closed and the Canister cap is sealed to prevent wipes from drying out
Store in a cool dry place
Shelf life, always closed after use, 2 years
The SDS is available as a download, upon purchase.

Save this product for later